How Many Portable Toilets Per Person On A Building Site
Posted by:
Admin
Tags:
Portable toilets, Construction site, Toilets per person, Rest area, HSE approved toilets
Posted date:
12-07-2023
How many portable toilets per person on a building site? Toilets 4 Hire Ltd offer construction site toilets hire throughout Cheltenham, Tewkesbury, Cirencester & Stroud. We look at how many toilets are needed and what facilities should be provided for workers on a site.
How Many Toilets Are Needed At A Construction Site?
The answer is very simple, you must have at least one toilet on-site to accommodate every seven people working 40-hour workweeks. On your building or construction site, you may have numerous trades and tasks that overlap, meaning many people must be on-site at the same time.
Many companies offer additional services to help you cope with having multiple toilets on location. Especially if you have hired chemical portable toilets, as these need at least servicing at least twice a week. No matter the amount you need, many hiring businesses will tailor each service to suit the duration and capacity of your project.
What do I have to provide on-site?
There are a few things you, as the site manager, can invest in or hire for your construction site to ensure all your workers are safe and have access to daily necessities.
How many toilets are needed?
If you wish to utilise chemical portable toilets, you will likely need one for every seven workers that operate on a 40-hour workweek schedule.
Do I need a separate drying room?
If the work being completed involves dirt, mud, sand, grit, or grease, you must provide an area for your workers to wash their overalls, dry wet items and store them ready for the following day.
Do workers need a rest area?
There must be an adequate, spacious room where workers can rest, eat and drink before proceeding with their tasks.
What facilities should be provided for workers on a demolition site?
Those working on demolition sites need immediate access to a range of facilities that the average working site has. For example, toilets, running hot and cold washing and drinking water, large wash basins, and other consumables.
Your workers are also entitled to a clean restroom with adequate, working lights, seating, central heating systems, and facilities to heat water, food, and wet work clothes. If your building project consists of long hours and dirty working conditions, it's wise to provide efficient showers for your staff to utilise at the end of their working day.
Types of HSE (Health and Safety Executive) approved portable toilets
Throughout the construction site and event field, there are numerous types of portable toilets to consider hiring. Each of these are HSE-approved and have their own advantages in regards to differing environments.
Cold Water Chemical Portable Toilet
Cold-water chemical toilets are some of the most common portable systems you can find on construction sites. These units are curated to be complete with a chemical toilet and hand-washing facilities, allowing staff to wash up to their elbows as the safety regulations instruct.
Many toilet hire companies may include a free weekly service in their hire rate, making the offer more appealing and straightforward when on-site. This service is compiled of staff members who can empty the waste and wastewater, complete surface cleaning, and they'll replace all soaps, toilet rolls and hand towels so that they stay refreshed.
These are a construction site necessity, and they are a perfect solution no matter the scale of your event or building project. Cold-water toilets are self-contained, meaning they are portable and easily movable across your site. If your building project is of a larger scale, then you can move these around to accommodate your builders.
These units are HSE-approved, with handwash basins that staff can use to wash up to their elbows before completing tasks.
It is perfect for approximately seven operatives that work 40 hours or so a week.
These port-a-loos don't require any direct mains power, sewage or water supply to function.
Many companies offer free weekly servicing that includes replacing toilet rolls, soap, and hand towels.
Hot Water Chemical Portable Toilet
You'll find that many hot water chemical toilet units are available to purchase with 110v or 240v, and this enables hot water heaters inside to warm water in a large basin. Doing so ensures all members of staff on-site have access to warm water to wash their hands before completing tasks.
The toilet inside is chemical, meaning it requires a weekly service, to rid any harmful substance. It operates using a standard recirculating chemical system and hot water for washing the basin. It offers temperate hot water that you can control at temperatures of around 40-43 degrees Celsius. Basins will arrive large enough for staff to be able to wash their hands and arms up to their shoulders, which is a safety regulation encouraged by the HSE.
It's ideal for a small group of builders working a 40-hour week on your building project.
It can be found on the market in 110v and 240v.
They are HSE-compliant with warm water washing facilities.
Hot chemical toilets require weekly servicing, with new toilet rolls, soap and hand towels installed.
It reaches optimum temperatures of around 40-43 degrees Celsius. Such is the perfect temp recommend by the HSE (Health and Safety Executives).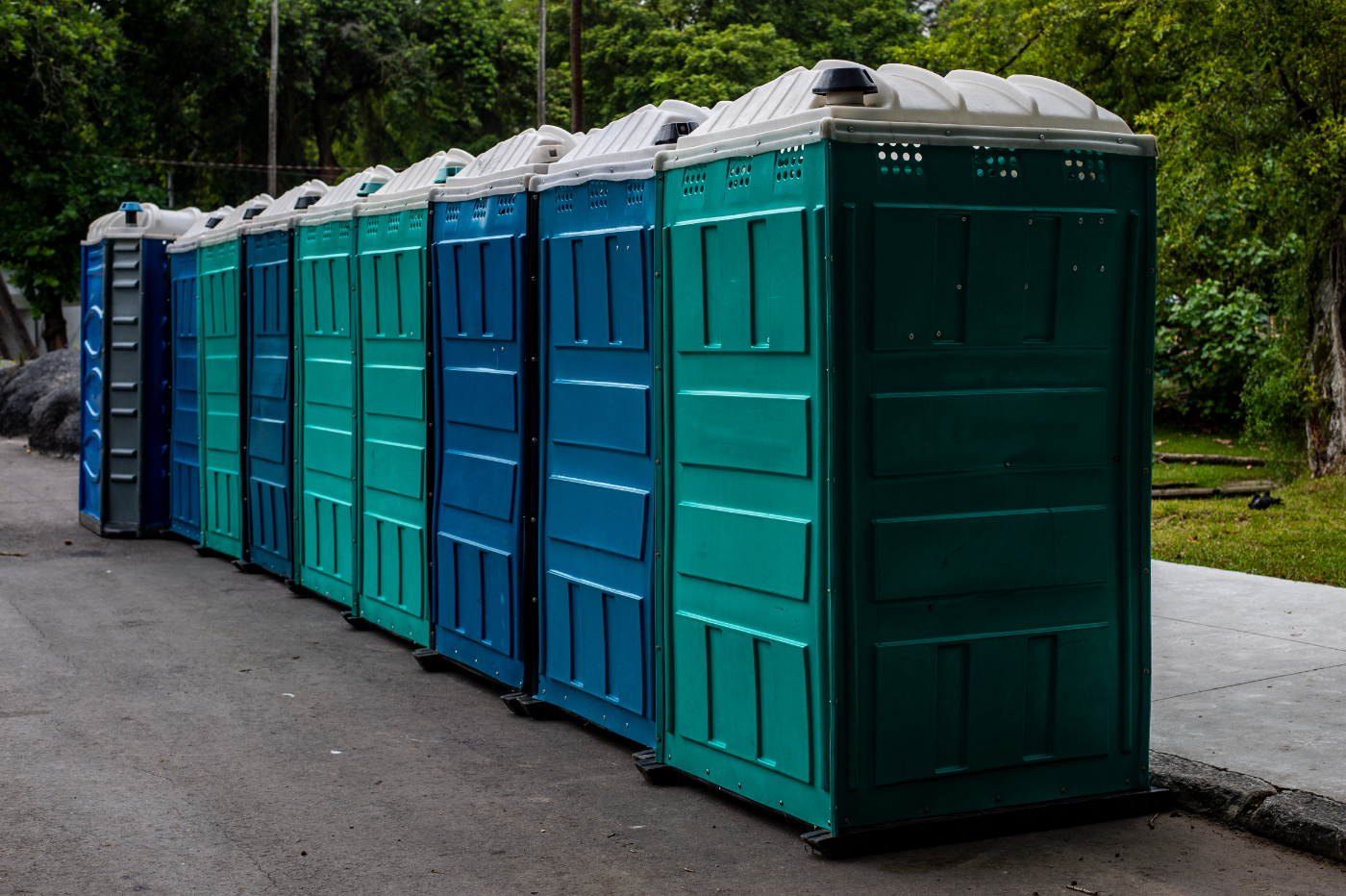 Mains Connected Portable Toilets
The portable toilets that are generally preferred by the HSE (Health and Safety Executives) are typically the Mains-Connected toilets. Such units are ideal for various festivals and large-scale events. They connect directly to the water, electric, and mains sewage, which means they operate in a similar manner to a more permanent unit.
Hiring this form of supply unit will ensure the toilets on-site don't have to be as frequently serviced. With a lack of servicing, your staff and attendees can get a much higher usage of the toilet facilities. If your event or project is far more long-term and close to a solid supply of mains drainage, electricity and water, then a single mains-connected toilet is the best option to have on-site.

All mains-connected portable loos typically don't require services every week. This is because when toilets are directly connected to the sewage they offer a fully functioning flushing system, like toilets in everyday homes. If the portable toilet you hire can connect to a solid power supply it will provide hot running water to fill into a large wash basin. HSE regulations state that cleaners and staff must wash up to their elbows, and this large basin will enable your team to do so.
Many models of these mains-connected toilets consist of or require the following:
They are available for hire or purchase in 110v or 240v.
These units require a connection to a strong mains water and sewage supply.
It will require a 16amp electric supply and a 15mm water inlet.
They come with a HSE-compliant forearm-length basin and fully flushing porcelain toilet.
---
Toilets 4 Hire Ltd provides reliable and comfortable portable toilets and shower units for domestic and commercial customers throughout Cheltenham, Tewkesbury, Cirencester & Stroud. Whether you are having temporary water supply issues or are hosting large outdoor events, our portable facilities are well-suited to any situation.